If you've ever eaten a meal cooked on a wood burning grill, you know that nothing can compare to the rich, smoky flavor or the tender texture of the food. In commercial settings, wood burning grills are not only a great way to step up your flavor game, they are also an excellent way to reduce fuel costs and save money overall. Many chefs prefer them to other kinds of grills due to their ease of use and overall precise control when cooking. Read on to learn more about commercial wood burning grills, their benefits, their features, and why you need one in your kitchen.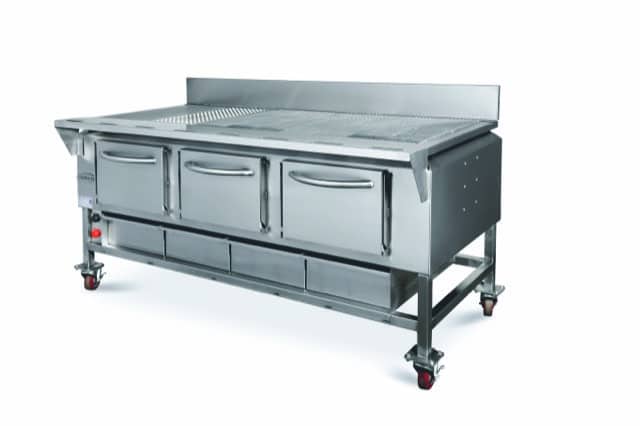 The Benefits of Wood Burning Grills
Wood burning grills are a top choice for kitchens due to their cost savings, ability to reduce heat in the kitchen, precise cooking control, and distinct flavor. Any kitchen can use typical grills to produce typical food, but the rich, smoky flavor of wood burning grills will give your patrons a unique and delicious dining experience. These grills are perfect for searing in the flavor of meats and a variety of other dishes. In addition to their appealing, distinctive flavor options, wood grills are easy to use and precise in their controls. Their simplicity to use allows you to apply your energy and creativity into your dishes rather than on managing wieldy machinery. The heat is able to quickly penetrate foods, cooking it faster to create moist, flavorful products.
Although the grills are able to get up to extremely high temperatures, the design keeps the heat within the grill rather than out into your kitchen. This not only makes the room more bearable to work in, it can reduce operating costs of your kitchen by reducing fuel use and costs.
Features
Quality wood burning grills use double-walled stainless steel and firebrick to radiate heat back into the cooking area. Stainless steel exteriors are easy to care for and are resistant to damage that can come with being in a busy kitchen. Cast iron grates sear in flavor, and excess juices are directed away thanks to an intentional design of the grates. Removable parts make for easy use and maintenance, and wood grills can get up to 1800 degrees. Grills that burn wood pellets and smokers can both create delicious dishes in a variety of ways.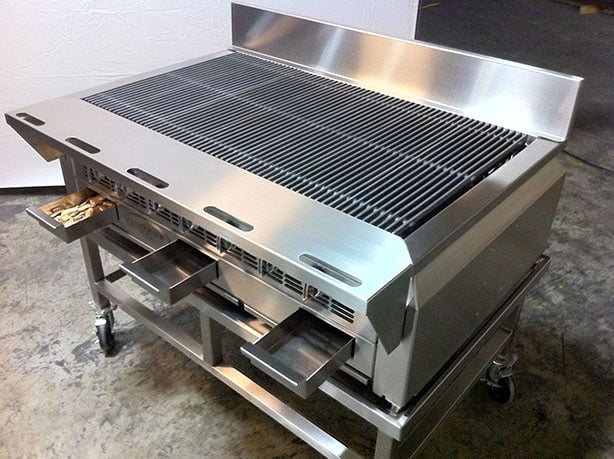 Choosing Your Wood-Burning Grill
If the taste and cost benefits of a wood grill sound appealing, the next step is to choose the grill that will best meet your needs. One of the main things to consider is size, based both on the space you have available and the production needs of your kitchen. Wood grills come in a variety of sizes to meet those needs. Other considerations can include warranty options, budget, and individual features.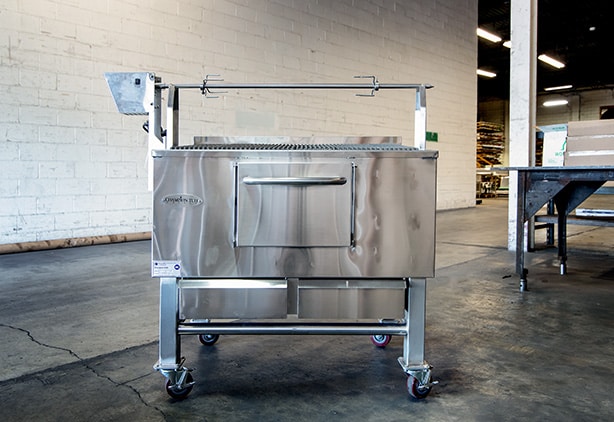 Care and Maintenance for Wood-Burning Grills
Thanks to removable grates, ash boxes, and doors, cleaning out your grill and its components is a piece of cake. Wood burning grills with stainless steel exteriors are also easy to clean and maintain. Always follow instructions in the owner's manual for deeper cleaning and maintenance.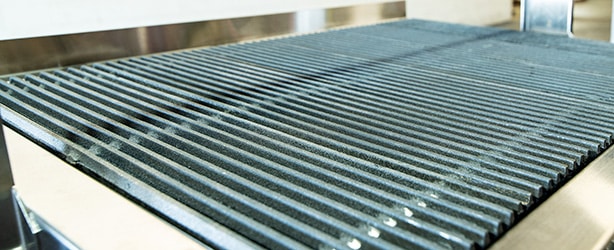 To purchase a commercial wood burning grill or ask questions to help guide you through the purchasing process, check out Champion Tuff Grills today!